---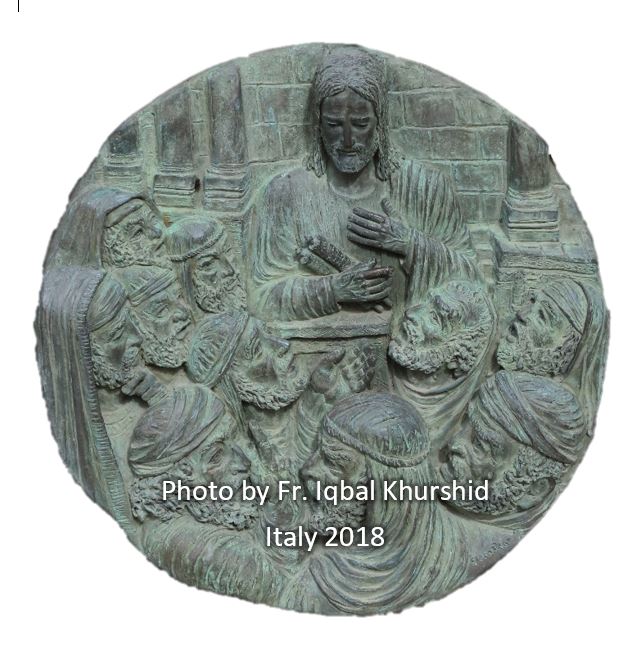 7th Sunday in Ordinary Time Year C – February 20, 2022
A DEEPER IMITATION OF GOD
In our lives we do have our role models. We have actors, players, singers, parents, or friends or holy men or women to follow so that their lives may reflect in us.  We love to imitate them so that we may become perfect like them. However, have we ever imitated God in a deeper sense? Today I want to use the reference from the First Letter of St. John which helps to have deeper imitation of God; "We love because he first loved us. Those who say, "I love God," and hate their brothers or sisters, are liars; for those who do not love a brother or sister whom they have seen, cannot love God whom they have not seen.  The commandment we have from him is this: those who love God must love their brothers and sisters also". Do we really imitate God in a deeper sense? The following story may help us to examine ourselves if we imitate God.
Once upon time a gentleman who was very religious had kept a parrot at his home. He loved him a lot and took good care of that parrot. But one day a wild cat came in and killed the parrot. He saw it and came running to save the parrot but couldn't as it was too late, and the parrot died. Seeing this, he started crying profusely. Just at that time, one of his neighbours came to visit him, when he saw him crying, he asked "why are you crying?"
He replied, "my parrot has died"
Neighbour said, "don't worry, you can get another parrot" and tried to calm him down.
He stopped crying but said "I am not crying because of the parrot"
Neighbour was confused and asked, "Then why are you crying?"
He replied, "Actually, the thing is, I taught my parrot to say God's name and even my parrot learned to sing many religious songs. But today when the cat pounced on him, my parrot forgot everything I taught him".
Similarly, we have been baptized, we read the Bible everyday, we sing the hymns and pray everyday but then why do we fail to imitate God? That's why someone said "we should always think about God and make sure to listen, think and talk about God and with God. St. John in the Book of Revelation said rightly if we fail to imitate God, He says "I have this against you, that you have abandoned the love you had at first. Remember then from what you have fallen; repent and do the works you did at first. If not, I will come to you and remove your lampstand from its place, unless you repent".  I believe by imitating God whole heartedly; we gain life and walk with him; otherwise as St. John says, in the Book of Revelation "I know your works; you have a name of being alive, but you are dead. Wake up and strengthen what remains and is on the point of death, for I have not found your works perfect in the sight of my God.  Remember then what you received and heard; obey it, and repent". In other places we read these words to remind ourselves if we are trying to imitate God, what our attitude must be "I know your works; you are neither cold nor hot. I wish that you were either cold or hot.  So, because you are lukewarm, and neither cold nor hot, I am about to spit you out of my mouth".
Last Sunday we reflected on the importance of trust in the Lord through Prophet Isaiah and Jesus in the Gospel invited us to reflect on Beatitudes along with "Woe" to understand how to live our lives (please read Galatians 5:16-26). Today we reflect on the Gospel value of mercy and how to "Be Merciful as your Heavenly Father is Merciful". In the First Reading we hear the interesting story of an encounter between King Saul & King David. The beginning of enmity between Saul & David started from the time King David killed the giant Goliath and women sang for King David. From that onward King Saul never liked King David and wanted to kill him on several occasion but failed. However, on the other hand King David was such a merciful and kind soul that he never returned evil with evil but respected King Saul because he said, "I will never raise my hands against the anointed one of God". We see today that though King David got the chance to kill King Saul, but he didn't raise hands against him rather regretted for cutting the fringe of his cloak and wept. I believe that's the attitude we need in order to imitate God to experience his mercy. The whole Holy Bible is filled with verses about God's mercy that forgives our failure and shortcomings.
We can learn the following lessons from the First Reading:
Trust God to make things right
Watch out for temptation
Remember it's God's job to decide, not yours
Trust God to protect you
Trust in God, not people(Please read Psalm 146 & Jeremiah 17:5-14)
Commit your way to the Lord
Trust God to reward you
God rewards all those who do right
God can make even your enemies be at peace with you
How do we leave everything up to God?  In fact, that's a good rule for all of us. Leave it up to God. Trust him. Trust him with our salvation. Trust him with our family. Trust him with our future. Trust him with our work. Trust him with our day. St. Paul writes in his Letter "He who did not spare his own Son, but gave him up for us all – how will he not also, along with him, graciously give us all things?" (Romans 8:32).
In the Second Reading St. Paul is presenting typology between Adam & Jesus "The first man, Adam became a living being; the last Adam became a life-giving spirit". Here   he quotes Genesis 2:7, "And the Lord God formed man of the dust of the ground and breathed into his nostrils the breath of life; and man became a living being". God himself, breathed life into the first Adam, and the joining together of spirit and body produced another phenomenon called the "soul," the personality. It is the presence of a spirit in a body that creates the soul and allows a person to function as a human being with mind, emotion, and will. That is what the first Adam was.
Then came the last Adam; Jesus, a life-giving Spirit, and as a Spirit, He indwells, by faith in our human spirits when we receive Him and open up our life to obeying and loving Him as our Lord and Savior. He regenerates our human spirit, and He now lives in us and begins to impart life to the soul again, to recapture the mind, the emotions and the will and bring them back under subjection to His Lordship. So, we begin to experience in our life, the joy of being once again in fellowship with God who made us and longs to have a relationship with us, as it was in the beginning before the fall in the Garden of Eden.  St. John writes in the beautiful way to express his faith in the Lord by inviting to have the same faith "These things have I written to you that believe on the name of the Son of God; that you may know that you have eternal life, and that you may believe on the name of the Son of God" (1 John 5:13).
Do we need anyone else to imitate when our Saviour and Creator are there? St. Paul adds bit more flavour to our imitation of God in this way; "So if anyone is in Christ, there is a new creation: everything old has passed away; see, everything has become new!" (2 Corinthians 5:17). Practically all the Epistles of St. Paul are rooted in a deeper imitation of God and his Son Jesus Christ. (Please read Philippians 2: 5-11).
Once upon a time, there was an island where all the feelings lived: Happiness, Sadness, Knowledge, and all of the others, including Love. One day it was announced to the feelings that the island would sink! So, all constructed boats and left. Except for Love. Love was the only one who stayed. Love wanted to hold out until the last possible moment. When the island had almost sunk, Love decided to ask for help. Richness was passing by Love in a grand boat. Love said," Richness, can you take me with you?" Richness answered, "No, I can't. There is a lot of gold and silver in my boat. There is no place here for you. "Love decided to ask Vanity who was also passing by in a beautiful vessel. "Vanity, please help me!" "I can't help you, Love. You are all wet and might damage my boat," Vanity answered.
Sadness was close by so Love asked, "Sadness, let me go with you."  "Oh . . . Love, I am so sad that I need to be by myself!", Happiness passed by Love, too, but she was so happy that she did not even hear when Love called her. Suddenly, there was a voice, "Come, Love, I will take you." It was an elder. So blessed and overjoyed, Love even forgot to ask the elder where they were going.
When they arrived at dry land, the elder went her own way. Realizing how much was owed to the elder, Love asked Knowledge, another elder, "Who Helped me?" "It was Time," Knowledge answered. "Time?" asked Love. But why did time help me?
Knowledge smiled with deep wisdom and answered, "Because only Time is capable of understanding how valuable Love is.  Are we capable of imitating the Lord? The Author of Letter to Hebrews encourages us to look only at Jesus who is perfecter of faith; "Therefore, since we are surrounded by so great a cloud of witnesses, let us also lay aside every weight and the sin that clings so closely, and let us run with perseverance the race that is set before us,  looking to Jesus the pioneer and perfecter of our faith, who for the sake of the joy that was set before him endured the cross, disregarding its shame, and has taken his seat at the right hand of the throne of God" (Hebrews 12:1-2).
In the Gospel today Jesus' invitation to mercy is intended to draw us into a deeper imitation of God our Father: be merciful, as your Father is merciful. However, it is not easy to understand this willingness to show mercy, because we are accustomed to presenting the bill to others: you've done this, now you have to do this. In short, we judge, and we fail … to leave space for understanding and mercy.
In order to be merciful, two attitudes are needed. The first is "self-knowledge". Once we have self-knowledge then it will be easy for us to avoid from hating, criticizing, judging, discriminating, and becoming unkind to other etc. This challenges us, by inviting us to make room for true inner attitude. Therefore, to become merciful, we must first acknowledge that we have done many things wrong: we are sinners! We need to know how to say: Lord, I am ashamed of what I have done in life. Therefore, acknowledging that we have sinned against the Lord, and being ashamed in his presence is a grace: the grace of knowing that one is a sinner! It is easy, and yet "so very difficult" to say: "I am a sinner and I am ashamed of it before you and I ask for your forgiveness". (Please read Psalm 51)
The second attitude we need is "an openness to expanding our hearts". It is precisely shame and repentance that expands a small, selfish heart, since they give space to God to forgive us. What does it mean to open and expand one's heart? First, it means acknowledging ourselves to be sinners and not looking to what others have done. And from here, the basic question becomes: "Who am I to judge this? Who am I to gossip about this? Who am I, who have done the same things, or worse?" The Lord says it in the Gospel: "Judge not, and you will not be judged; condemn not and you will not be condemned; forgive and you will be forgiven. Give and it will be given to you; good measure, pressed down, shaken together, running over, will be put into your lap". This is the "generosity of heart" that the Lord presents through the image of those going to collect grain who enlarged their aprons in order to received more. In fact, you can receive far more if you have a big heart! A big heart doesn't get entangled in other peoples lives, it doesn't condemn but forgives and forgets as "God has forgiven and forgotten my sins".
To be merciful, we need to call upon the Lord's help, since "it is a grace". And we also need to "recognize our sins and be ashamed of them" and forgive and forget the offences of others.  Thus, to have a deeper imitation of God, we must learn to be merciful like him and love his only Begotten Son loved and gave his life so that we may have life and life in abundance. Is it easy to imitate God? Maybe not but the Holy Spirit does help not only to call him "Abba, Father" but also to have a deeper imitation of him who have written our names on the palms of his hands. He never forgets his mercy to call us his beloved children and share inheritance with his only Beloved Son.
If we want to have a deeper imitation of God, then we must have inner conversion because without it, imitation is impossible. Here is a story to understand the true meaning of having deeper imitation of God.
Once there was a thief who heard that King had made an announcement and invited all the monks and saintly teachers to his palace for a meeting. Thief thought, "Maybe King will be giving alms to those people. If I go, there I can rob others when they leave the palace". On the decided day, Thief entered the place and hid near by, waiting for the meeting to start.
When all the monks and saintly teachers gathered, King came out onto his balcony and spoke "O great beings, I have invited all of you here because I have a request to make. I have a daughter and she is inclined to marry a saintly person; I will give half of my Kingdom to the one who will marry my daughter".
Listening to this, Thief thought what if he disguises as a saintly person and could marry the princess, then he would never have to rob anyone again and live an easy life. But then he saw as soon as King said this all the monks left the palace without saying a single word to the King. They thought King had invited them for a spiritual meeting, so they could share and learn more knowledge. Seeing that this King said to the saintly teachers "Look, I will give 75% of my kingdom to one who would marry my daughter, but I will only keep a little part of kingdom for myself". At this point, one of the persons said "We are not monks but saintly teachers, but we are all married. We can't marry your daughter. We came here to respect your meeting but since it is about a marriage proposal, please give us permission to leave".
One by one all the saintly persons who were present left, refused King's riches saying that their purpose of life is fulfilled constantly by engaging their minds and hearts on the Lord. Now there was only 1 person left, it was Thief who was disguised as a saint. King said to him "O great saintly person…." Just then a man interrupted, "You are wrong". King was surprised and questioned, "what, to address you as saintly person is wrong?"
At this man said "Yes because I am a robber not a saintly person. I came here thinking of robbing people who came there but now, I understand that if your kingdom and country has any value, why would all these people leave? When I came here, I wanted to become rich by marrying princess but now, I understand what's really valuable, it's service of Almighty God".
Let's pray the prayer of St. Augustine so that we may seek his guidance to become merciful like our Heavenly Father " Father, I am seeking, I am hesitant and uncertain, but will you, O God, watch over each step of mine and guide me".
Other Sermons In This Series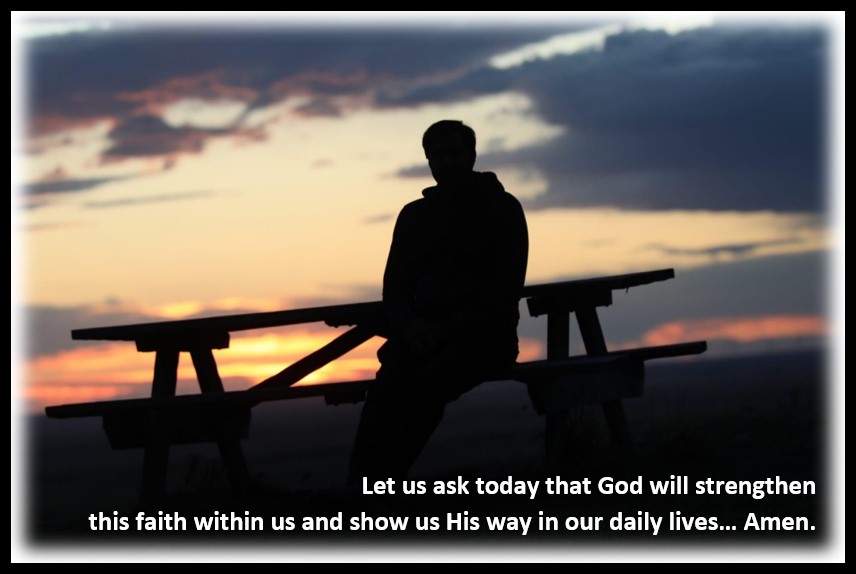 October 21, 2022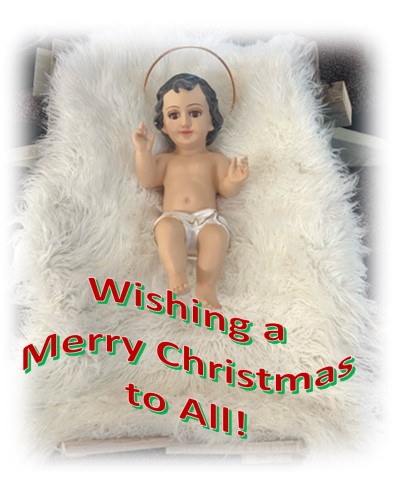 December 23, 2022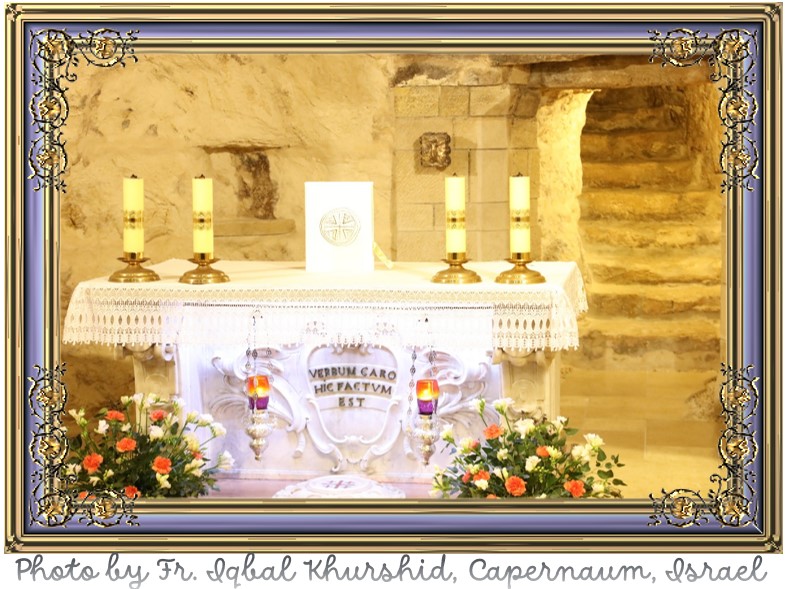 July 15, 2022