---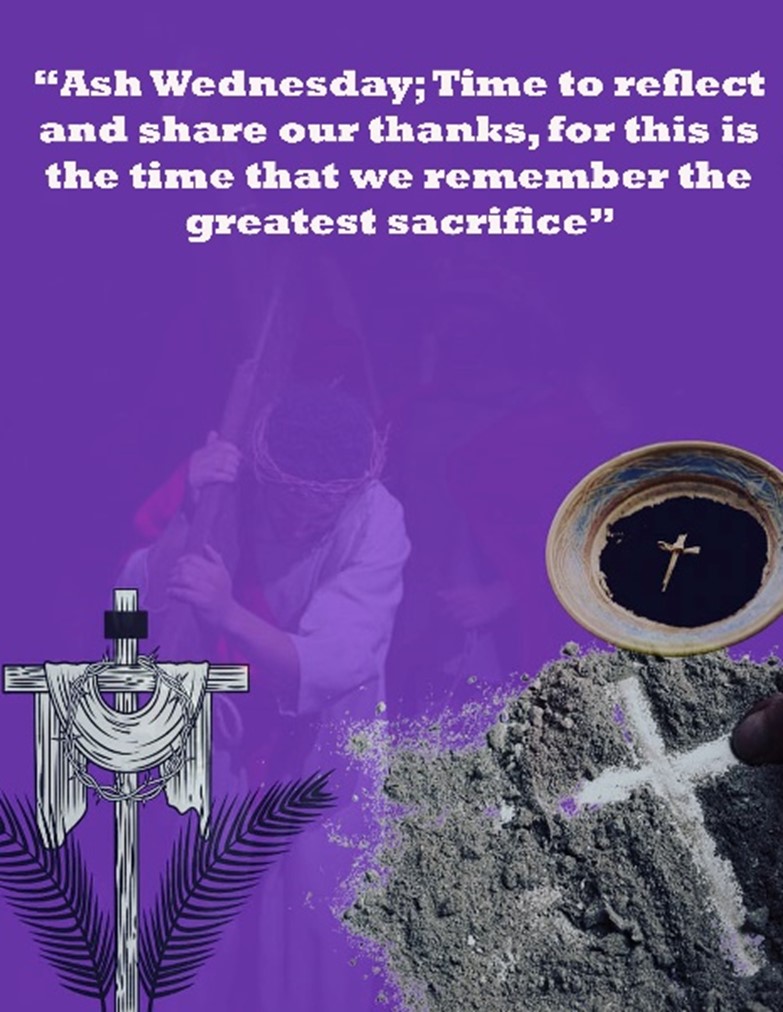 Ash Wednesday Mass 9:00am & 6:30pm March 2, 2022
Pause, See & Return                                         
We begin our Season of Lent by having ashes on our forehead with the words "Remember you are dust and unto dust you shall return". As Pope Francis said "The season of Lent is a favourable time to remedy the dissonant chords of our Christian life and to receive the ever new, joyful and hope-filled proclamation of the Lord's Passover. The Church in her maternal wisdom invites us to pay special attention to anything that could dampen or even corrode our believing heart. We are subject to numerous temptations. Each of us knows the difficulties we have to face. And it is sad to note that, when faced with the ever-varying circumstances of our daily lives, there are voices raised that take advantage of pain and uncertainty; the only thing they aim to do is sow distrust. If the fruit of faith is charity – as Mother Teresa often used to say – then the fruit of distrust is apathy and resignation. Distrust, apathy and resignation: these are demons that deaden and paralyze the soul of a believing people. Lent is the ideal time to unmask these and other temptations, to allow our hearts to beat once more in tune with the vibrant heart of Jesus. The whole of the Lenten season is imbued with this conviction, which we could say is echoed by three words offered to us in order to rekindle the heart of the believer: pause, see and return. Pope St. Clement I opens our minds to understand the real meaning of Lent with these words "If we review the various ages of history, we will see that in every generation the Lord has offered the opportunity of repentance to any who were willing to turn to him. When Noah preached God's message of repentance, all who listened to him were saved. Jonah told the Ninevites they were going to be destroyed, but when they repented, their prayers gained God's forgiveness for their sins, and they were saved, even though they were not of God's people. In other words, God wanted all his beloved ones to have the opportunity to repent and he confirmed this desire by his own almighty will. That is why we should obey his sovereign and glorious will and prayerfully entreat his mercy and kindness. We should be suppliant before him and turn to his compassion, rejecting empty works and quarrelling and jealousy which only lead to death. The Season of Lent to pause a little to see who we are and where are we heading to and return back to the Lord "As I live, says the Lord, I do not wish the death of the sinner but his repentance". He added this evidence of his goodness: House of Israel, repent of your wickedness. Tell the sons of my people: If their sins should reach from earth to heaven, if they are brighter than scarlet and blacker than sackcloth, you need only turn to me with your whole heart and say, "Father," and I will listen to you as a holy people". Once again St. Pope Clement says "we should be humble in mind, putting aside all arrogance, pride and foolish anger. Rather, we should act in accordance with the Scriptures, as the Holy Spirit says: The wise man must not glory in his wisdom nor the strong man in his strength nor the rich man in his riches. Rather, let him who glories glory in the Lord by seeking him and doing what is right and just. Let this season provide us little time to pause, see and return and our lives may become pleasing to the Lord who suffered, died, and rose again for us to grant eternal life.
The following story should help us to understand the true meaning of Lent and how to grow deeper in our faith in spite of all temptations and shortcomings of our human flesh.
Once upon a time a wealthy Russian nobleman enters a monastery under questionable motives, but ended up genuinely striving for holiness and virtue, and even finding that the battle for sanctity was worth it! Despite his progress, he constantly felt weak in his faith, and unceasingly begged God to grant more. He was humble. After seven years living as a hermit, an attractive woman visited who was bent on seducing him (he was well known as a very handsome hermit). What she didn't know was that just before she arrived, he had been nearly overcome with thoughts of lust, so she had come at just the "right" time.
She banged and begged at his door as if stranded and alone, tricking him into letting her in on a cold Russian winter night (her friends had actually dropped her off), and after he locked himself in his room to avoid her, she told him to stay in his room because she was undressing – a fact she knew would make him imagine her. He could hear her silken garments moving and, having exposed herself, she began moaning requests to him.   She pleaded that she had been stricken very ill, perhaps by the cold, and desperately needed his immediate attention. From his room he whispered prayers knowing that his faith was too weak for such a trial. He knew what she wanted. He wanted her. He then burst out of his room, sped past her straight to his porch where an ax lay for splitting wood, and laid down his finger and cut it off in an extreme act of mortification (to be understood, but not emulated). He had resisted sin to the point of shedding blood! Witnessing this, she collapsed into tears begging for forgiveness. He told her God would forgive her and told her to leave immediately. Her friends picked her up and brought her home. Soon thereafter she entered a convent.
The news of this encounter spread, giving the hermit great fame. Pilgrims came for blessing and healing. As his fame grew, so did his pride. He pretended to dislike the constant attention, but inside he loved it more and more. At the height of his fame, something had changed in him, and a man came and begged that he would bless his daughter – with his heart more prideful this too was just the "right" time. As she entered, he was overcome with her femininity, and lust surged within him. She seemed to know it.  She approached him, took his hand, and placed it on her breast. The two descended rapidly into their passions, his will totally overcome. The next morning, he awoke with her in his bed and had to flee in a disguise.
In the two instances of the monk being tempted, there lies a central theme: faith and humility. Alone in the woods, presuming a lack of faith, he overcomes acute temptation by humility. By the time of his second temptation, he had swelled with pride at the stroking of his ego, forgetting that faith is a gift to be opened, not a "quality" that we master and display for man's eyes. As we progress in the spiritual life, there will be moments of victory. Yet we must never let our pride get ahead. Not a bit. "Wherefore he that thinketh himself to stand, let him take heed lest he fall" (1 Cor. 10:12).  With this story in mind, we can hear the gravity of these words from Sirach: "The greater you are, the more you must humble yourself…"
Humility is trust in God. Trust in God is faith, a total abandonment into the hands of true Power, Strength, and Greatness. Humility is not debasement or a conjuring of self-loathing, but the acceptance of the reality that God is God, and we are not. Humility sees things as they are. Humility does not leave us weak in a corner but lifted high by a mighty God. "He said to me, 'My grace is sufficient for you for my power is made perfect in weakness.' I will all the more gladly boast of my weakness, that the power of Christ may rest on me… for when I am weak, then I am strong" (2 Corinthians 12:9-10).
Are you sick of trying to overcome vices, lust? Be weak. You cannot overcome them. Not alone anyway. Need God more. Trust yourself less. Pray as if all of eternity rests on that prayer, because it might. (Please read Psalm 51 and walk with King David during this season of Lent and see the changes taking place in your personal life).
Other Sermons In This Series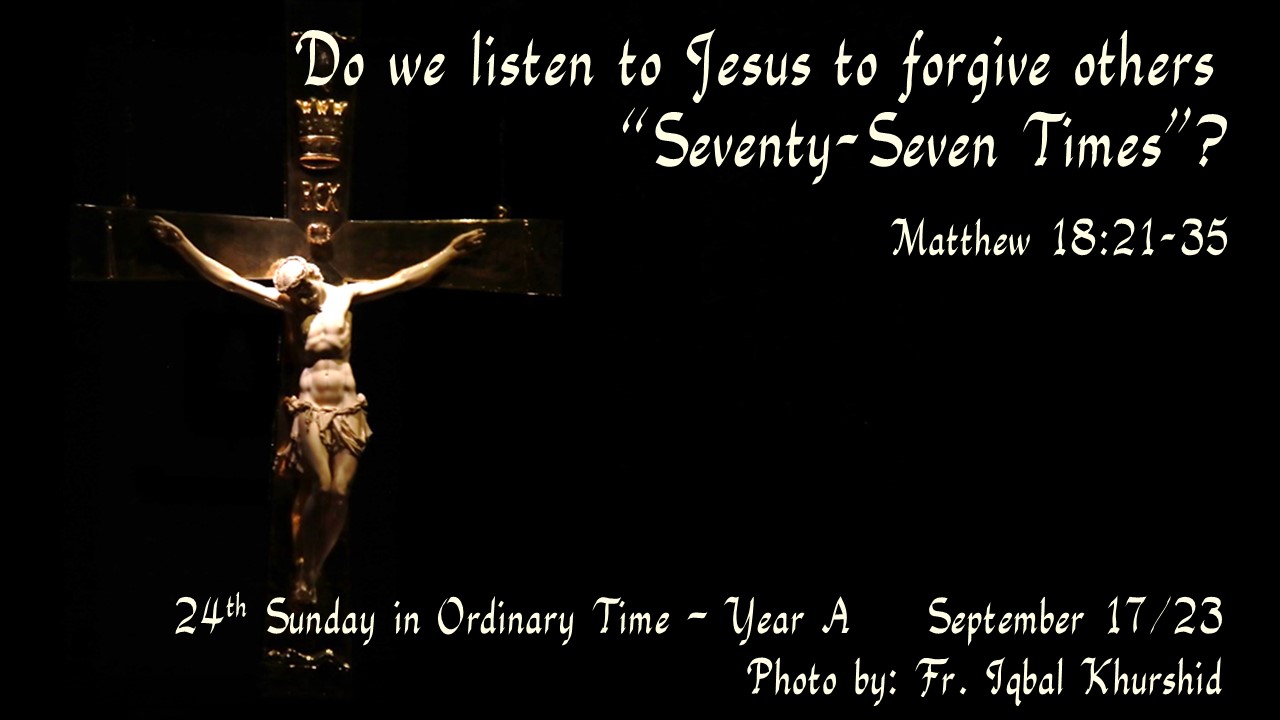 September 13, 2023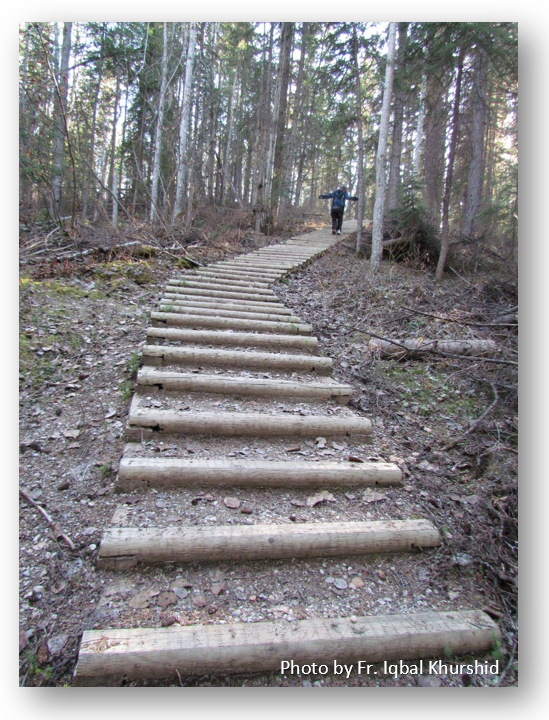 December 03, 2021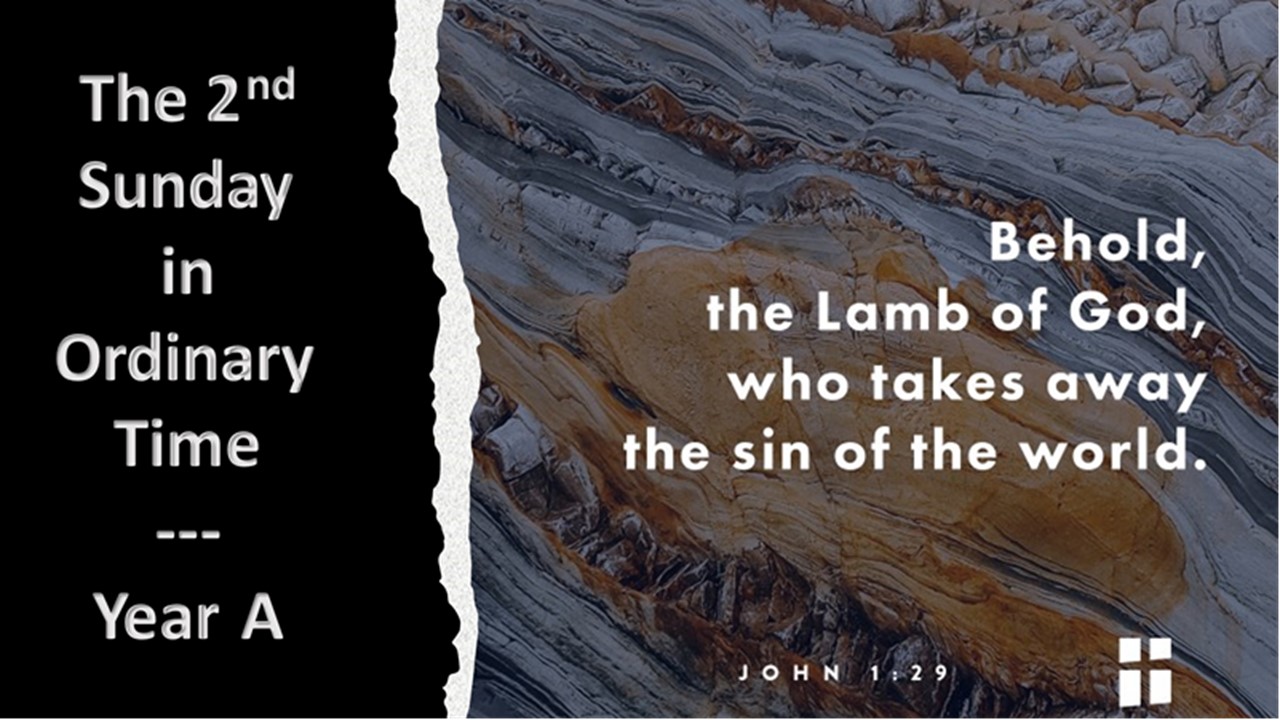 January 13, 2023