---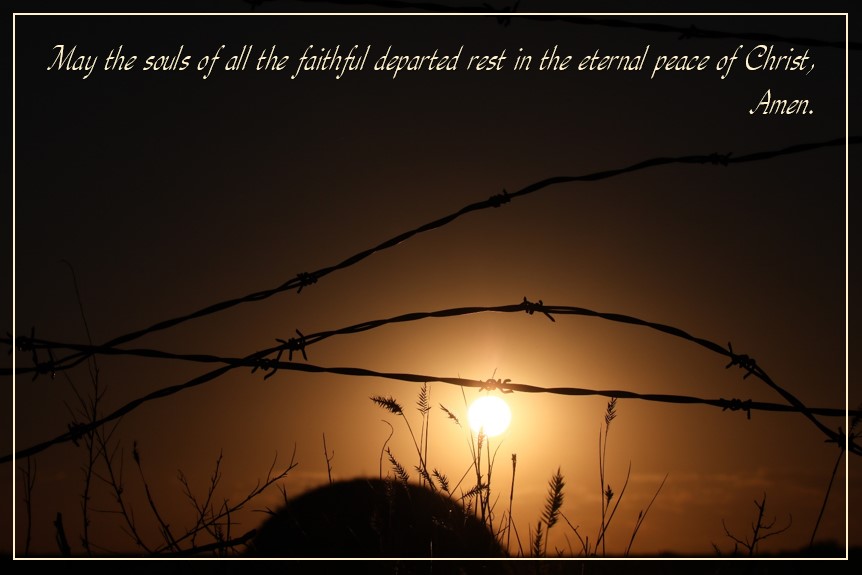 32nd Sunday in Ordinary Time Year C ~ November 6, 2022
WE LIVE AND DIE IN HIM
As we begin the month of November, I find the air around us is full of sadness and restlessness. Everything look so gloomy and broken that we fail to understand where and which way to go? I think it is natural feelings we have as we remember our dear and near ones who have gone to the Lord before us. However, this month does leave two questions for us to ponder and reflect upon: Is death end of everything? And what should we do about people who have gone to the Lord before us? These questions are always disturbing because no one wants to die, neither does anyone want to see someone die and leave them alone. But we must remember as Christians, death is not the end of our life but a transition from one place to another place. Those who have gone to the Lord, have left for us an example of true sharing of their lives. True sharing involves love, faith, and sacrifice.
A woman's only child died. She got so upset and went around with her child's body asking people, "is there any physician anywhere who can bring my child back to life? Please tell me". It happened that Buddha was coming to town, one of villagers said to her, "I don't know any physician, but Buddha is coming to our village.  Buddha is an enlightened being. It's a great chance. You can take your child to Buddha and ask him to help you". So, she went to Buddha and put dead body of her child at Buddha's feet and said, "Please bring him back to life. You know all secrets of life; you have attained enlightenment., can't you do a small miracle for a poor woman?"
Buddha replied, "I will do it but there is on condition". Woman said, "I will fulfill any condition to bring my child back to life". Buddha said, "the condition is go around and find a house where nobody has ever died in their family and when you find it, bring a few mustard seeds from that house".
That village was cultivating mustard seeds, so Buddha just asked her to go around the village and look. She went to the first house and told them everything and asked for seeds. People from that house said, "a few mustard seeds? We can bring back carts full of mustard seeds if Buddha can bring back your son to life with the help of these seeds. However, these mustard seeds will be no help to you because we have been living here for ages and we have lost not only one but many members of our family. She went to another house but got a similar answer. She visited every house of that village, and she even went to the nearby villages as well, but she came back empty handed to Buddha.
Buddha asked, "Where are mustard seeds?"
Woman smiled and said, "You tricked me. There is no family, not this village, nor in the whole world, where nobody has died. Everybody who is born is going to die. I understand now, I don't want my son to be brought back to life again. Please help me to understand the space of immortality where birth and death have never happened".
Buddha said, "You understood the point that whoever is born, will die but attain eternal life".
The life and death are two mysteries which no one has ever understood and will never understand. St. Ambrose once wrote: "We see that death is gain, life is loss. Paul says: For me life is Christ, and death as well.  What does "Christ" mean but to die in the body, and receive the breath of life? Let us then die with Christ, to live with Christ. We should have a daily familiarity with death, a daily desire for death. By this kind of detachment our soul must learn to free itself from the desires of the body. It must soar above earthly lusts to a place where they cannot come near, to hold it fast. It must take on the likeness of death, to avoid the punishment of death. The law of our fallen nature is at war with the law of our reason and subjects the law of reason to the law of error. What is the remedy? Who will set me free from this body of death? The grace of God, through Jesus Christ, our Lord.  We have a doctor to heal us; let us use the remedy he prescribes. The remedy is the grace of Christ, the dead body our own. Let us then be exiles from our body, so as not to be exiles from Christ. Though we are still in the body, let us not give ourselves to the things of the body. We must not reject the natural rights of the body, but we must desire before all else the gifts of grace. What more need be said? It was by the death of one man that the world was redeemed. Christ did not need to die if he did not want to, but he did not look on death as something to be despised, something to be avoided, and he could have found no better means to save us than by dying. Thus, his death is life for all. We are sealed with the sign of his death; when we pray, we preach his death; when we offer sacrifice, we proclaim his death. His death is victory; his death is a sacred sign; each year his death is celebrated with solemnity by the whole world. What more should we say about his death since we use this divine example to prove that it was death alone that won freedom from death, and death itself was its own redeemer? Death is then no cause for mourning, for it is the cause of mankind's salvation. Death is not something to be avoided, for the Son of God did not think it beneath his dignity, nor did he seek to escape it. Death was not part of nature; it became part of nature. God did not decree death from the beginning; he prescribed it as a remedy. Human life was condemned because of sin to unremitting labor and unbearable sorrow and so began to experience the burden of wretchedness. There had to be a limit to its evils; death had to restore what life had forfeited. Without the assistance of grace, immortality is more of a burden than a blessing.
Sacred Scripture keeps reminding us that "we are dust and unto dust we shall return" however for us a Christian's death is nothing but profit to gain eternal because "if we live or die, we belong to the Lord" as St. Paul says. Everyone who was born, will taste the death but for us there is a hope of eternal life. There are some beautiful sayings of the saints I would like to share with you all.
St. Gregory Palamas says "As the separation of the soul from the body is the death of the body, so the separation of God from the soul is the death of the soul.  And this death of the soul is the true death…. Thus, the violation of God's commandment is the cause of all types of death, both of soul and body, whether in the present life or in that endless chastisement.  And death, properly speaking, is this: for the soul to be unharnessed from divine grace and to be yoked to sin.  This death, for those who have their wits, is truly dreadful and something to be avoided.  This, for those who think aright, is more terrible than the chastisement of Gehenna. From this let us also flee with all our might. Let us cast away, let us reject all things, bid farewell to all things: to all relationships, actions and intentions that drag us downward, separate us from God and produce such death.  He who is frightened of this death and has preserved himself from it will not be alarmed by the oncoming death of the body, for in him the true-life dwells, and bodily death, so far from taking true life away, renders it inalienable."
St. Gregory of Nyssa reflects on the mystery of death and life "And so man separated himself from the fruit of all good things, and by his disobedience he was filled with the fruit that brings destruction.  And the name of that fruit was mortal sin.  Straightway he died to the more perfect life: he passed from a divine life to one on the level with irrational beasts.  Once death was mingled with his nature, mortality was passed on to all generations of his children.  Hence, we are born into a life of death, for, in a certain sense, our very life has died.  Our life is indeed dead because we have been deprived of immortality.  But the man who is aware that he lives amid two lives can cross the barrier between them, such that by destroying the one he can give the victory to the other.  Man by his death to the true life entered this life of death.  So too, when he dies to this irrational life of death, he is restored to life eternal.  And so, there is no doubt but that we cannot enter into this life of blessedness unless we die to sin."
 St. Basil the Great says "As the Lord thought good so it came to pass. Let us adopt those marvelous words.  At the hands of the righteous Judge, they who show like good deeds shall receive a like reward…. He whom we love is not hidden in the ground; he is received into heaven.  Let us wait a little while, and we shall be once more with him.  The time of our separation is not long, for in this life we are all like travelers on a journey, hastening on to the same shelter.  While one has reached his rest another arrives, another hurries on but one and the same end awaits them all."
The understanding of St. John Vianney about death is phenomenal "If we were required to die twice, we could jettison one death. But man dies once only, and upon this death depends on his eternity. Where the tree falls, there it shall lie. If, at the hour of death, someone is living in bad habit, the poor soul will fall on the side of hell. If, on the other hand, he is in the state of grace, it will take the road for heaven. Oh, happy road!"
Moreover St. Therese of Lisieux adds her wisdom to understand the mystery of death.
"It is not Death that will come to fetch me, it is the good God. Death is no phantom, no horrible specter, as presented in pictures. In the catechism it is stated that death is the separation of soul and body, that is all! Well, I am not afraid of a separation which will unite me to the good God forever."
Lastly St. Thomas Aquinas opens our minds to understand "The more one longs for a thing, the more painful does deprivation of it become. And because after this life, the desire for God, the Supreme Good, is intense in the souls of the just (because this impetus toward him is not hampered by the weight of the body, and that time of enjoyment of the Perfect Good would have come) had there been no obstacle; the soul suffers enormously from the delay."
 If we still remember the First Reading (Wisdom 11:22-12:2) it reminded us that "The whole world before you, O Lord, is like a speck that tips the scales, and like a drop of morning dew that falls on the ground" reminds us of the shortness of our life in this world. (Please read 2 Samuel 14:14 & 1 Peter 1:19-24 & Psalm 89). However, God is so merciful to us that he does not take pleasure in any death because he has created everything for eternity. (Please read Wisdom 1:12-14 & Ezekiel 18:30-32).
Today when we reflect on the Word of God, some people's death wasn't a means of destruction but a relationship with God as the first reading narrates the story of a mother and seven sons. However, in the Gospel for Sadducees death was an end to everything. In the book of Wisdom (3:1-9) we read about these types of people as follows: "But the souls of the righteous are in the hand of God, and no torment will ever touch them.  In the eyes of the foolish they seemed to have died, and their departure was thought to be a disaster, and their going from us to be their destruction; but they are at peace.  For though in the sight of others they were punished, their hope is full of immortality.  Having been disciplined a little, they will receive great good, because God tested them and found them worthy of himself; like gold in the furnace, he tried them, and like a sacrificial burnt offering he accepted them…" But Jesus reminds them after the death, people will be changed, and they no longer be bound to follow earthly traditions. St. Paul says, "if we have died with him, we will also rise with him". Being disciples of Jesus death is not an end to our life but it's a beginning of our relationship with the Lord who is "the way, the truth and life" because he came to give us life and life eternal. Jesus is the life and resurrection and with him we find peace and comfort. In the Book of Revelation we read two powerful passages which remind us to be faithful "Be faithful unto death and I will give you the crown of eternal life" (2:10) and "And I heard a voice from heaven saying, "Write this: Blessed are the dead who from now on die in the Lord." "Yes," says the Spirit, "they will rest from their labors, for their deeds follow them." Death will never end our relationship with the Lord, but it changes us to see the Lord as he is.
Holy Father Pope Francis helps us to understand today's Gospel passage that offers us a wonderful teaching of Jesus on the resurrection of the dead. Which falls precisely in this month of November when we pray especially for the dead. Jesus is asked by some Sadducees, who did not believe in the resurrection and therefore provoke Him with an insidious question. It refers to a paradoxical case based on the Mosaic law. Whose wife, in the resurrection, would a woman be, who has had seven successive husbands, all brothers, who one after another have died? Jesus does not fall into the trap and replies that the risen in the hereafter "neither marry nor are given in marriage: in fact, they can no longer die, because they are equal to angels and, and are children of God, being children of the resurrection". This is how Jesus responds.
With this answer Jesus talks to us to think that this earthly dimension in which we live now is not the only dimension, but that there is another dimension, no longer subject to death, in which it will be fully manifested that we are children of God. It gives great consolation and hope to listen to this simple and clear word of Jesus about life beyond death; we need it so much especially in our time, so rich in knowledge about the universe but so poor in wisdom about eternal life. Jesus came to give us life and life in abundant and he wipes our tears from our eyes because he has set his tent among us as we read in the book of Revelation.
In fact, behind the question of the Sadducees lies a deeper one: not only whose wife the widow of the seven husbands will be, but to whom will her life belong. It is a doubt that has been felt by man down through the ages: after this earthly pilgrimage, what will become of our lives? Will it belong to nothing, to death?
Jesus answered that life belongs to God, who loves us and cares so much about us, to the point of linking his name to ours: he is "the God of Abraham, the God of Isaac and the God of Jacob. Now He is not God of the dead, but of the living; for to Him all are alive. Here is the wisdom that no science can ever give. Here the mystery of the resurrection is revealed. Because the mystery of life is revealed. Life exists where there is bond, communion, and brotherhood; and it is a stronger life than death when it is built on true relationships and bonds of fidelity. On the contrary, there is no life where one has the pretension of belonging only to oneself and of living as an island: in these attitudes' death prevails. It's selfishness. If I live for myself, I am sowing death in my heart. Eternal life is our destiny. The horizon of definitive fulness of our history, and it is this life that we are called to prepare through evangelical choices.
So, let's remember everyone who has gone to the Lord that he may grant eternal rest unto them and peace and consolation to the everyone who remain to comfort one another.
One Saturday night, a pastor was working late and decided to call his wife before he left for home. It was about 10:00 PM, but his wife didn't answer the phone. The pastor let it ring many times. He thought it was odd that she didn't answer but decided to wrap up a few things and try again in a few minutes. When he tried again, she answered right away. He asked her why she hadn't answered before, and she said that it hadn't rung at their house. They brushed it off as a fluke and went on their merry ways.
The following Monday, the pastor received a call at the church office, which was the phone that he'd used that Saturday night. The man that he spoke with wanted to know why he'd called on Saturday night. The pastor couldn't figure out what the man was talking about.
Then the man said, "It rang and rang, but I didn't answer."
The pastor remembered the mishap and apologized for disturbing him, explaining that he'd intended to call his wife.
The man said, "That's okay. Let me tell you, my story. You see, I was planning to commit suicide on Saturday night, but before I did, I prayed, 'God if you're there, and you don't want me to do this, give me a sign now.' At that point, my phone started to ring. I looked at the caller ID, and it said, 'Almighty God'. I was afraid to answer!"
God calls us everyday to inherit eternal. Do we listen to him?
Eternal rest grant unto them O Lord and let perpetual light shine upon them.
Other Sermons In This Series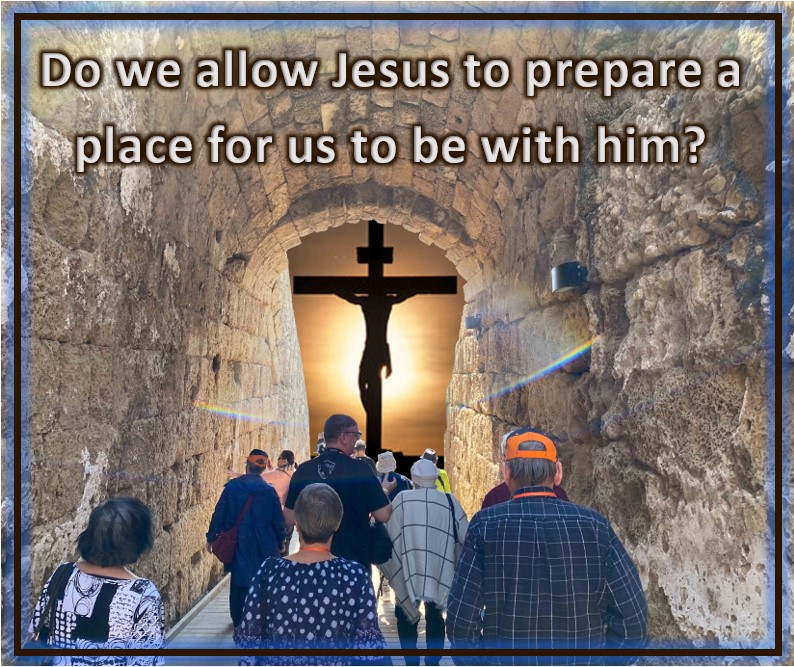 May 05, 2023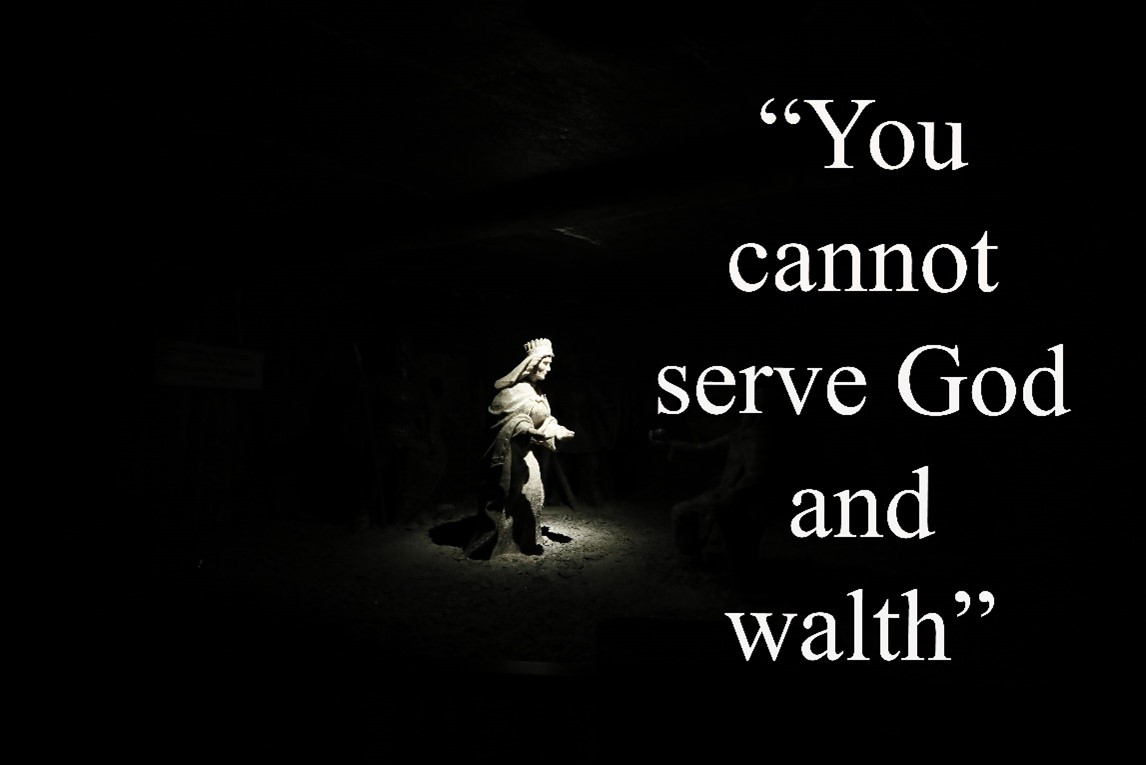 September 16, 2022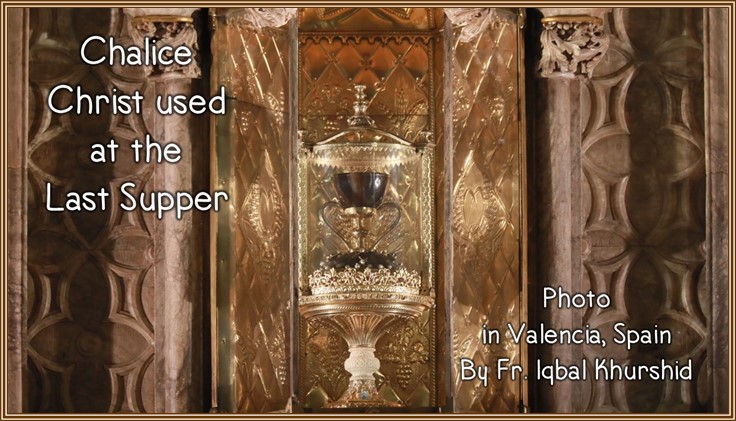 June 09, 2023